28th Aug 2008
Two Days Late Ain't Early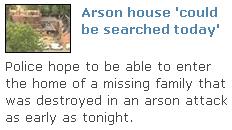 Police in Shropshire are planning to enter the burnt-out home of a missing family within the next 24 hours, reports the BBC.
The mansion near Maesbrook was apparently the target of an arsonist back on Tuesday; three horses were found dead. Although a man, woman and 15-year old daughter are "missing" along with their two dogs, police have not been able to enter the house until the fire department declare it safe.
It's good news that officers will finally be allowed to determine the family's fate, but I can't quite understand BBC Online's subtitle for the story.
Police hope to be able to enter the home of a missing family that was destroyed in an arson attack as early as tonight.
Under precisely what definition is fourty-eight hours after an incident deemed "early"?