27th Jul 2007
I Always Wanted To Swim To School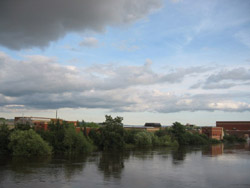 I thought I would take a moment to write about the Gloucestershire floods from my viewpoint in the thick of things.
Actually, when I say the "thick of things", I lie in two ways:
It would be 'deep' not 'thick'.
I have the fortune of being sited at the top of a hill between Tewkesbury and Upton-upon-Severn: my family's house is quite literally between the two worst-hit towns in the county but we have barely suffered at all.
We haven't had running water in a week or so, but that's no major issue because we can easily purchase huge bottles of mineral water from roadside shops for the time being: we're not cut off.
In an effort to see just how bad things were down the road, this week a few of us donned wellies and trotted over to Mythe Bridge, the home of the now-famous Mythe Water Treatment plant. The bridge itself was closed to traffic but I, with my brilliant makeshift anti-floodwater device on-foot, traversed the bridge unscathed.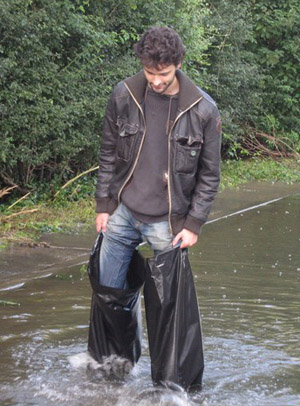 After a long year at Uni I seem to no longer own a pair of wellies so I had to improvise with bin liners (see below amusing photo). This worked brilliantly until my left liner developed a hull breach and I had to initiate evacuation procedures. I managed to save my shoe, inside, but for the rest of the mission I was confined to bare-footed bin-linerage on the left side thus ending up with one very wet foot.
Anyway.

We reached the plant to find plenty of lorries parked up full of things like sandbags, concrete pipage and water bottles. Nearby were a whole bunch of Army personnel. Not to critisice the work done by the military boys and girls over the last week, but this lot didn't seem to be doing a whole lot of anything. Most were sitting eating hot dogs or using the nearby portaloos.
Then again, for all I know they were waiting for some crucial construction work to be completed before they could swing into action, so who am I to judge?
By Wednesday, the day upon which we went on our fun-filled adventure, flood water in the town itself had receded somewhat so we didn't see much of interest beyond closed roads and the military folk. Still, it was a fun day out.
Is Britain Being Used?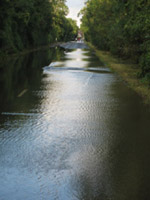 Meanwhile, the Belfast Telegraph has made a very good point regarding the lack of incoming aid.
Whilst I personally don't believe the flooding has caused devastation on a scale anywhere near that of other recent disasters — such as the New Orleans hurricane tragedy or the Indian Ocean tsunami — you can't ignore the hundreds, if not thousands, of British citizens in Gloucestershire and Oxon who have lost everything.
Perhaps it's because we're only talking about in-house possessions of a few thousand, not the entire framework of buildings for entire, huge cities like New Orleans. But regardless the cause, the Belfast Telegraph article speaks the truth:
As the flood disaster in England unfolds, with people having their homes and possessions destroyed, businesses completely washed out and farmers whose crops are now a total loss, I've haven't heard of any aid coming from countries around the world to help these people.

When one thinks back to the millions of pounds in aid we gave to the US (New Orleans), to India, nearly all of Africa, the East Indies (tsunami) and nearly every country and island in the world, it is time they all put their hands in their pockets to help those who are in dire straits in the UK.
It's too easy to catch yourself thinking, "those poor people in Tewkesbury are flooded but let's be honest, there must be people worse off in the world." This would be true.
But let's not make the mistake of consequently assuming that they don't need all the help they can get.