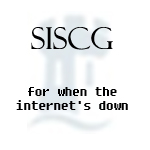 Student/IS Consultative Group
Are you having trouble with your Uni internet?
Email us at siscg@kera.name!
...or write on our Facebook group.
Timeline
Autumn 2006: The Original Campaign
In September 2006, SISCG compiled a document listing the largest problems experienced by SNS service users in 2005-2006, in the hopes that they might one day be read and investigated upon by relevant staff where in the past complaints have fallen on deaf ears.
Once completed in September, a list of 145 names and comments were added. Then, with the help of the University's Students Union, the document was presented to Lynne Tucker, Director of IT Systems.
Its full title was A Student-Run Campaign to Raise Awareness of Poor Quality of Service from the University's "Information Services" Department. You can read it here:
In November, a response was received through the Students Union responding to each of the issues raised. In addition, Richard Smeeton made clear that he hoped the two groups would be able to establish a dialogue to further improve upon certain areas which were in disagreement: "Myself and colleagues from the SNS team would be pleased to meet with yourself and perhaps a small representative group of students to review the findings, and to explore how we can develop the residential network to further enhance the student experience at Nottingham."
You can read the response here (some passages highlighted by SISCG):
Because a focus group had yet to be formed, the response was shelved for later documentation.
---
January 2007: Exam Downtime
On 22nd January 2007, the IS network suffered a serious outage in the midst of examinations. Since exam downtime was one of the concerns addressed in the original petition, students were especially alarmed that this could have been allowed to re-occur.
Although no fully official communication was made, we did express our disappointment in the following document:
Subsequently, we created our Facebook group to spread the word of our activities, and got ourselves announced on URN.
The next day, we were grateful as Richard Smeeton replied to the horror of the student community with the following informative explanation (and the sincerest of apologies):
---
February 2007: Illegal Activity
There have long existed illegal file-sharing activities within the University's network. Shortly before last Christmas, one such DC++ hub was voluntarily shut down after IS became pro-active at warning those involved against its use.
Unfortunately another hub sprung up almost immediately, and rumour has it is being used casually by hundreds of students, with no regard whatsoever for the law or for recent events.
With little other option, the University is starting to consider more serious disciplinary action against students involved in illegal activity, but because of the lack of communication plaguing the SU and other such organisations, the message isn't getting out.
So here it is from us:
SISCG recommends that anyone using DC++ on campus realises that illegal access to movies (on which you seem to have become blindly dependant) is not worth being chucked out of Uni and it can happen. As if the original warnings weren't enough.

Please please please, for the sake of those of us who are trying so very hard to establish a meaningful and productive relationship with IS, stop placing everything we have worked for -- and your degree -- at risk.
---
February 2007: Examination Results via Portal
On 12th February the Portal was inaccessible around the time of exam results being released. One might claim that one should expect a level of technical difficulty during times of such extreme server load; then again, the publication of examination results is arguably the single most important function that the Portal performs.
Update: On 23/02/2007 with no warning the University website, webCT and the Portal were inaccessible during the afternoon and evening. The QoS/uptime rating of IS services over the last two months alone is now well below the lowest industry-acceptable value of 99%.
---
March 2007: Security and more Downtime
On 9th March it came to our attention that it is possible to log-in to the Student Portal with any of the 'guest' accounts (e.g. guest1/portal) and still be able to use the 'Find Staff/Student' box on the front page to look up names and email addresses of anyone registered at the University.
This strikes us as an incredible breach of privacy! We asked if this is a known issue, or perhaps something that was accidentally overlooked during the system's design. Our comment was acknowledged but we are still waiting on a report back.
Meanwhile, come 12th March WebCT was inaccessible again after a string of recent uptime problems. A notice posted on the Portal explained:
We are currently experiencing problems with the Web Site and WebCT.

We are aiming to restore the web site within the next hour. We are currently working on WebCT and will provide a further update on expected recovery time shortly.

Unaffected services: Portal, Outlook Email and the majority of Unix filestore.

We apologise for the inconvenience caused and currently have engineers on site working on the problem with the utmost urgency.
Whilst we appreciate the diligence with which IS engineers work to resolve downtime issues, we are most interested in finding a way to avoid the faults from occuring in the first place. With some sturdy server hardware, many Internet websites function perfectly well with far more users than the University's 30,000.
Perhaps some of the 7.9% pay rise recently awarded to the Vice Chancellors could have been better used for equipment upgrades.
---
April 2007: SNS Over JANET At Last
On 17/04/2007 there was a short outage of the SNS Internet connection whilst IS *moved the SNS offsite link to run over the JANET connection*.
This change was psuedo-promised in IS's first communication to SISCG and should theoretically lead to GREATLY increased performance of services over the University's network.
---
Last modified: 23/02/2007