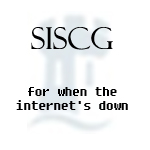 Student/IS Consultative Group
Are you having trouble with your Uni internet?
Email us at siscg@kera.name!
...or write on our Facebook group.
About SISCG
The Student/IS Consultative Group is an unofficial committee of representative students, with the aim of developing a meaningful and productive dialogue with Information Services who provide all the networking at the University of Nottingham.
Over recent years, SNS service users have encountered a number of problems — disconnected internet, slow speeds — all affecting their studies, mostly due to the following: communication between IS and the student body has been tenuous at best, with the only real contact being with low-level telephone support volunteers on a case-by-case basis.
---
Get Involved!
We are always looking for more people to help out, especially as many students remain on campus only for a single year. We are particularly interested in hearing from First Year students (or otherwise those living in University Accommodation).
If you have any issues with IS or the SNS please contact us with your story. We can raise publicity or simply try to contact the relevant authority on your behalf.
If you would like to join us get in touch with your details and a brief summary of why you wish to be involved, and we'll let you know.
We do not currently hold any formal meetings, but this may change in the future if we become actively associated with IS and/or the Students Union as a group.